Безумные Анальные Нимфоманки #02 / Frisky Anal Nymphos #02 (2022)
Frisky Anal Nymphos #02
Описание
Top director Chris Streams captures outrageous schoolgirl lesbian lust in 'Frisky Anal Nymphos 2.' Classroom misbehavior includes one-on-one trysts, threesome action and a five-girl orgy! Delectable dynamo Jane Wilde appears in all four crazy scenes; three include her special 'booty shake' recipe! Platinum blonde MILF teacher London Rivers supervises as petite pupil Jane serves detention. The delinquent, snooping student discovers dildos and lube among the teacher's belongings. When London finds Jane masturbating, the busty instructor admonishes the young girl ... and jams the giant dick-toy in Jane's mouth! Jane sucks London's big tits. They kiss passionately; Jane eats London's wet snatch and gives a rim job. When London buttfucks Jane with a peeled banana, Jane's sphincter squeezes it back out. Jane's bunghole gapes widely. Next, raven-haired bad girls Jane and Violet Starr challenge each other to a 'nasty' contest! They smooch, strip off their uniform blouses, and trade oral favors right on top of the teacher's desk! Jane crams Violet's colon with a cock-shaped lollipop, and then feeds her the sticky sucker ass-to-mouth! She fingers her classmate's clit, and they enjoy dildo drilling. The girls share their juice on toys amid labia lapping, ass worship and rectal gaping! A teacher sternly admonishes pretty blondes Haley Reed and Sophia Grace for their skimpy attire, and then leaves them in detention. Troublemaker Jane enters in a plaid skirt; she raids the teacher's sex gear stash, and lust boils over in an all-girl three-way! Sophia masturbates and sinks a hose-length toy down her throat. Haley pries open Jane's butthole with an oversized rubber dong. The blonde baddies eat Jane's twat and rim her. Jane packs gummy treats inside Haley's anus, and Haley squeezes the candy onto Jane's tongue! Multiple toys pack slits and sphincters amid A2M pleasures. Sophia and Haley ride opposite ends of an anaconda-sized artificial schlong! 'Ready for my booty shake?' asks Jane. Her ass blasts a torrent of milk, soaking tongues and faces! Sexy teacher London oversees unruly Sophia, Haley, Violet and Jane. The classroom pulses with pervy lust when Ms. River confiscates sex toys from the horny young girls, who strip down to plaid, pleated skirts and undies. They reveal London's big rear and bare mommy cunt. Five beauties share fingers, tongues, dildos, face sitting, pussy eating, spit and party refreshments: Haley squeezes a shiny apple from her butthole for Violet and Sophia to suck! 'Let's make milkshakes!' yells Jane, and anal milk squirting climaxes this epic orgy. Sphincters shower sloppy juice across each girl's face! Jane splashes heavy strands of cream into the teacher's open mouth! The freaky ladies snowball the nasty shake concoction mouth-to-mouth.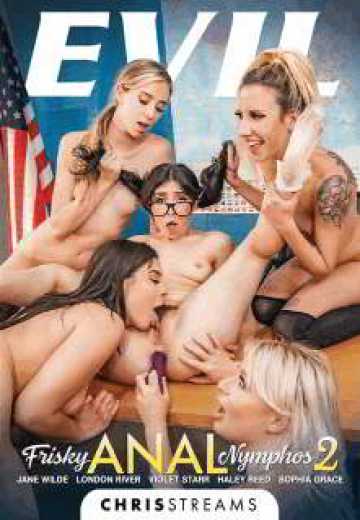 Актеры:
Haley Reed, Jane Wilde, London River, Sophia Grace, Violet Starr
Зарегистрируйтесь
, Гость и у вас будит больше возможностей. Например кнопка "
СКАЧАТЬ
"
Безумные Анальные Нимфоманки #02 / Frisky Anal Nymphos #02 (2022)
Плеер

London River & Jane Wilde

Violet Starr & Jane Wilde

Haley Reed & Sophia Grace & Jane Wilde

London River & Sophia Grace & Jane Wilde


Смотреть Безумные Анальные Нимфоманки #02 / Frisky Anal Nymphos #02 (2022) онлайн бесплатно в хорошем качестве, дублированый перевод на русском языке можно на любом удобном для Вас устройстве, это может быть ПК или мобильный телефон, а так же планшет, айфон и андроид (OK Google).